The Films
Drama from the streets; as real as it gets
You won't find much in the way of special effects in our films. No monsters, no aliens, no space ships, no CGI, no big budget sets from another world. Instead we have to rely on what we can find in this world: real people, real stories, real passion, real drama. That's why all the scripts have been evolved from true stories told by the actors. It's drama from the street – as real as it gets.
Our first short film Humanitas was released in 2008 to widespread acclaim. Since then we have made several short films, multi-media stage productions, a music video and an on line soap opera. We also have plans for a feature film which would showcase the unique experiences and talents of our actors.
Press Call for Help
When life closes in . . .
Our 10th year anniversary film project started with a look at several fairy tales. It was Rumpelstiltskin that caught the imagination of our actors. The themes of poverty, obsession, betrayal and exploitation all found their way into the final film script under an overriding theme of being entrapped.
Four story lines were brought together when 4 of the characters found themselves in a car park lift that breaks down causing some panic and alarm at the end of what has already been a traumatic day for each of them.
This has been another creative project from our wonderful actors in the workshops directed by Rachel Muter. It is another Acting on Impulse triumph. Watch the film and the behind the scenes documentary here.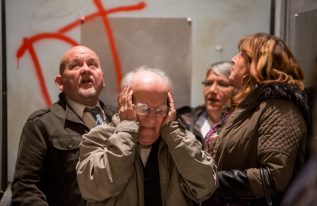 Life's a Lottery
Win, lose or Dream
Our project this year was quite different. We explored the theme of winning the lottery – what would be their dreams? What would the impact be? The result was a series of 10 films; monologues, duologues and groups of 3 and 4. Each one revealed something about themselves. Some of the performances were very brave and spoke profoundly of the issues they have faced in life. They are very moving.
We are very proud of every single performance. Do take the time to watch each one. And the 'making of' is definitely a bit of fun. See them all at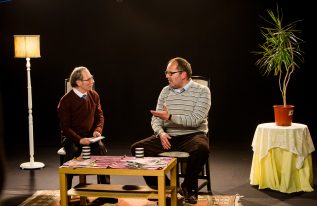 The Box
The latest film from Acting on Impulse is a feature length film starring actors from the fortnightly programme of workshops. Few have any previous acting experience before coming to AOI.
Ed Lily joined us as script writer and co-director. His talent for drawing out stories, teaching new acting techniques and developing powerful narrative will leave you thinking about how our most vulnerable citizens are treated by society. Joe Chambers was also part of the writing team and co-director. He brought his well established relationship with the actors to a new level as he worked on group dynamics and some of the more comedic elements of the film.
The Box was filmed entirely in a Salford warehouse with an imaginative set created by designer, Tony Boffey. The film appears to be a reality TV programme – but all is not all that it seems. Do take time to watch this intriguing film. Watch how each character develops through the story.
There is an interesting twist to this tale of a group of people on the margins of society who are brought together in 'The Box'. We were grateful to actor/singer Kavana who played himself in a cameo role in the film.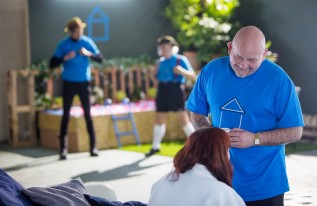 The Box – Behind the Scenes
Catch a glimpse of what happened behind the scenes in Acting on Impulse's first feature length film, 'The Box'.
Created by James Statham, this documentary encapsulates in a nutshell the filming of, 'The Box'. It brings to life the reality of filming and also captures the heart of Acting on Impulse and its actors.
This film shows the care and expertise that goes into making this our most ambitious project to date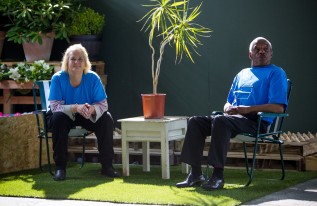 Life after Street Life
The 'mockumentary' following up the music video characters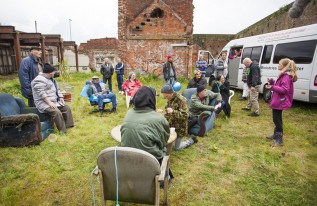 Street Life
AOI Street Life - the music video
This was another new challenge for our actors. The process was probably the most complex of any of our projects. They had to learn rhythm as well as contribute story themes, create their own characters and learn the song. It involved a full day in a recording studio followed by 3 intensive days of filming. The locations set a challenge with filming in a bus stop, on derelict sites, in graveyards, in a library, in a day centre, in car parks, in a bar etc. etc. And what a success with a live launch at the Museum of Science and Industry in Manchester followed by a successful launch on You Tube. You can see it at:  https://www.youtube.com/watch?v=GOIZx3dgA8w
This was a humorous way to explore dark subjects with a light humorous touch. Through the music video we were able to deliver a punchy and truthful message. We were very grateful to John Henshaw who took a cameo role in the extended version of the music video.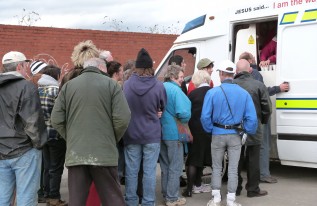 Street Life (Behind the Scenes)
This is a very telling documentary about the making of the music video, 'Street Life'. It captures comments from the actors, producer and director as well as showing some behind the scenes footage of the filming. It is a must see film. Follow the link to https://www.youtube.com/watch?v=iu1oxL-cULA
It was so good to hear the actors own reactions to being part of the production of the music video, 'Street Life'. The whole thing gives a good idea of 3 intensive days of filming at 14 locations.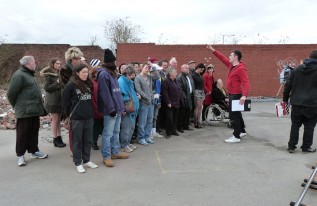 Dream on the Streets
The course of true love never runs smooth especially when sleeping rough on the streets of Manchester
This was our introduction to Shakespeare – an adaptation of 'A Midsummer Night's Dream'. Instead of the forest of Arden, it was on the streets of Manchester. The Shakespearean language was retained and on occasion was a real challenge. This was a multi-media production with about a third of the scenes being pre-filmed. The actors pulled it off on two near full house performances in Altrincham and the Z Arts theatre in Hulme.
This has been a real challenge. Some of our actors were going through really hard times including sleeping rough at the time of the performances. Yet there were standing ovations at both performances. We are so proud of what they achieved.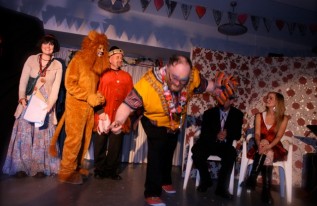 Deep Within
This was a very ambitious multi-media production. The mystery drama was developed with the cast and the help of a professional writer who joined the workshops to draw out the storyline. It was a play that had something to say on several levels. It touched on issues of difference, survival and acceptance. There were film excerpts from a day centre for homeless people, a hostel for recovering alcoholics and an agency supporting homeless young adults.
This was our grittiest and most hard hitting production yet. It was entertainment that changed the actors, the crew and the audience. We are proud of what the actors achieved in this intriguing story.
The Invitation
'The Invitation' is the story of a bunch of hapless people attempting to get to a wedding. There are many twists and turns, but the happy couple do finally tie the knot.
This has been the most ambitious film yet with a combined film crew, cast and extras of over 100. We were so happy to include people from the Cornerstone Day Centre and Positive Lifestyles hostel as extras. We were also delighted to have Dave Spikey and Neil Fitzmaurice contributing cameo roles in the film.