The day of our first-ever live performance in a theatre began with the van, kindly supplied by Carillion, turning up to collect all the scenery and staging. Big thanks to Carillion and drivers Danny and John! By 10.30a.m. the Zion Arts Centre theatre in Hulme was buzzing, mountains of props, scenery and costumes unloaded, dressing rooms prepared and the near life-size City Centre Ministries van installed on the stage. Lighting and projection details were sorted with the Zion techies Steve and Nichola. Kaite, fresh back from Australia, transformed the bar into a canteen. Now for the actors!
By 2p.m. most of the cast had arrived and we were tucking into sandwiches, full of anticipation about the event ahead. Everyone was relaxed and determined to enjoy the moment. The three musicians got our feet tapping with composer Will Threlfall's catchy theme tunes.
The dress rehearsal was….. well, as Lauren told the cast 'The good news is that the Dress was terrible, which traditionally means that the real thing will be excellent.' Would she be proved right?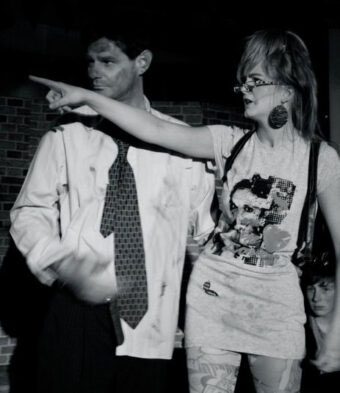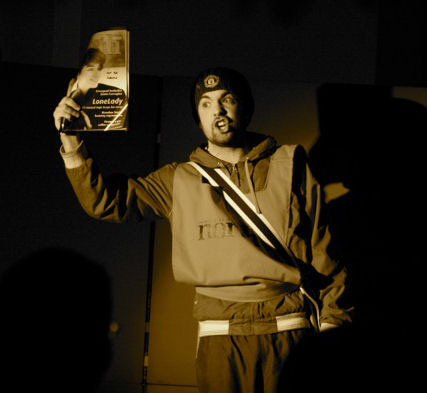 By 6.30p.m. we were all behind the scenes, costume, hair and make-up complete, bursting with excitement. But would there be an audience? Gradually they starting coming in. They came and they came and we reckon 140 people took their seats. They reacted, they laughed and applauded and gave our guys an amazing experience of performing live.
It all went brilliantly. Kenny, as Snug playing Wall, added his own line and props. He quivered and quaked and as a brick dropped down from his costume he uttered the immortal lines 'I'm bricking it!' to gales of laughter. Antonella, as Hermia, managed to complete her monologue despite leaning backwards, finding the support gone and disappearing head-over-heels behind the stage blocks. She retained her composure to the extent that the audience took this as deliberate and roared with laughter.
The technical side was perfect, the films segueing seamlessly into the live action. Mark, as Big Issue vendor/Narrator, stitched it all together, ad-libbing and barracking the audience to cover up the costume changes. 'Pyramus and Thisbe' was hilarious and the cast took their bows to enthusiastic ovations. Audience comments were along the lines of 'We didn't expect it to be so professional!' 'That was real entertainment!'
As for the actors, they had produced a performance they were justifiably proud of, the culmination of 8 month's hard work. Now they just want to do it all over again. Homeless actors, performing Shakespeare on the public stage? No probs. What's the next challenge…