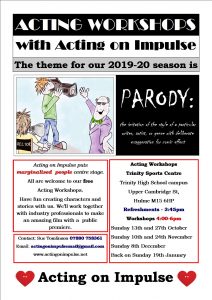 It's all about the number 13. Our 13th season starts on Sunday 13th October at Trinity Sports Centre, 4-6pm. Refreshments (all important) are at 3:45.
This is the first of a series of 13 acting workshops, directed by actor/director/teacher Daniel Bradford. The theme is 'Parody,' buckets of fun to be had with that one! Our actors devise the characters and scenarios that will become the script of our next film. The film is usually made at the beginning of May and is premiered in July. It's a chance to shine and achieve something to be really proud of. You can see most of our catalogue of films on our YouTube Channel.
Anyone from the homeless and marginalised communities is very welcome. Come along and learn new skills, release your imagination, work together with our energetic and creative community of actors. Dip your toes in, we guarantee the warmest of greetings. Workshops are fortnightly on Sundays:
Sunday 13th and 27th October
Sunday 10th and 24th November
Sunday 8th December
Back on Sunday 19th January
For more information, email Sue Tomlinson actingonimpulsemail@gmail.com or ring on 07880 758361.